A recent paper was published on the use of capillary electrophoresis to select DNA aptamers for lysozyme by
Tran et al in Molecules
: http://www.mdpi.com/1420-3049/15/3/1127/  This is nothing new as capillary electrophoresis has been used for a number of years to select aptamers, first published by
Krylov's lab
in Canada.  For a review of the methods and current papers, check out
pubmed
, wikipedia, and this figure from
Andrei Drabovich
: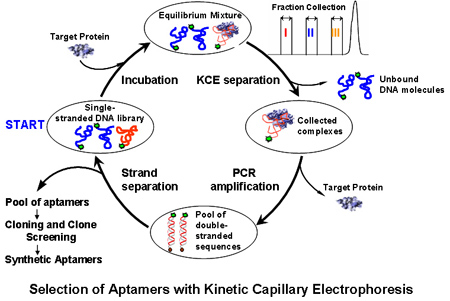 The selection method sounds very appealing for a number of reasons:
Fast selection since fewer rounds are required - 3-5 vs 8-12

Little protein necessary - 0.1pmol or less compared to 200pmol/round
Binding assays can be performed with the CE
However, there are also drawbacks:
Collection times/volumes
Buffer incompatibility - rumors you can't use divalent ions because of sticking to the tube walls
Experience required to use the machine effectively
The pool or primer set must be ordered with fluorescence for detection on the CE

If someone would like to read up on these methods and work to implement them for a selection, I would approve it.  I would work with you because I would like to become familiar with the machine.  But we only have one CE and it can only handle one sample at a time, so it may be problematic for more than one student to learn.  However, Arshia (former mentor) is currently working with the machine and so, you would have help in that regard.